30 Day Online Coaching with Dan
30 Day Online Coaching with Dan
£1,000.00
Enjoy world class results with our founder Dan Roberts. No matter who you are, where you are, or what your goals are, Dan can help you.  Dan has worked with athletes, supermodels and Oscar winning actors that need to physically prepare for movie roles. He is used to quickly finding out what his clients need, helping them to gain exceptional results.
Bespoke online training with Dan provides you with 30 days of unparalleled expertise which includes exercise, lifestyle and nutritional coaching.
"Dan's forensic knowledge of all things fitness is jaw dropping." Sunday Times
These workouts can be done at home, in the park or gym and are designed for your body and goals.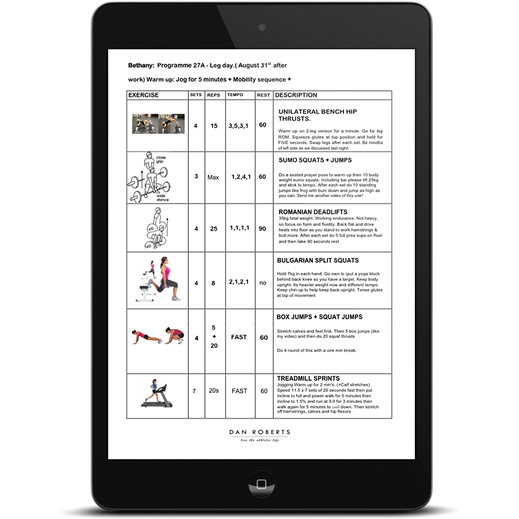 This is the ideal option for those not in London, but wish to be coached by Dan personally.
Programme Details:
Weekly 30 minute consultations via skype or 'facetime'.
A weekly written workout that increases in intensity each time. Includes: sets, reps, tempo, rest times and training points and covers any injury or muscular imbalance considerations.
Tips on your form and technique via video analysis.
Lifestyle and nutritional coaching.
Video demos if required.