Welcome to the Methodology X experience – an immersive online fitness program for women with daily live support. Created for female fashionistas, it has become a trusted resource for women of all shapes, sizes and fitness levels. The workout is championed by established fashion models, global modelling agencies, and women all over the world who need intelligent, targeted training that gives them real and lasting results.
Our 28 day progressive program pays special attention to making you more athletic. It will reduce your hip and waist measurements, sculpt your glutes, tone down your inner thighs, strengthen your core and shape the back of your arms all while improving posture and body confidence.
The Online Workout
Get lifetime access to our Methodology X® online program. All you need is a gym ball and a mat and you will be free to train anywhere! Every day is a different challenge making Methodology X a real journey of discovery. Packed with educational insights on female specific training, and an empowering message of "your body is an instrument, not an ornament",  Methodology X is more than a workout, it's a lifestyle.
Daily Support, Mentoring & Accountability
You will be placed in a very small and exclusive WhatsApp group with Dan Roberts for 30 days. Being in this group with fellow MX-ers will help you stay motivated, meet like-minded women and have all your daily questions answered by Dan himself.
An Immersive Virtual Coaching Experience

Methodology X is experienced through an innovative style of coaching. You will enjoy the benefits of having a world-class personal trainer with the portability, convenience, and affordability of an online coaching program. In just 28 days, Methodology X will kick-start a new lean, fit and body confident you.
Methodology X is currently sold out and is next available to purchase in:
15
Days
19
Hours
16
Minutes
16
Seconds
We can only accept 20 new customers per month. To be notified when the shop opens and have early bird access, please leave your email below.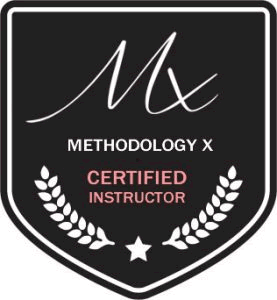 Methodology X™ is also an-award winning group class. Currently available in USA, UK, ITALY and AUSTRALIA. To study (online) our nationally accredited MX Instructor qualification and join our growing family of coaches, please click here.