WANNA BE A NUK SOO WARRIOR FOR A DAY?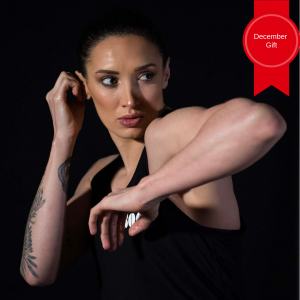 Gift Season is ON! Here is something exciting for you to do for your mind and body this month. We are giving you access to NUK SOO's Cheveyo Circuit to give you a taste of the warrior lifestyle. Try it out and let us know how you feel afterwards.
The Cheveyo Circuit is taken from day 4 of our 90-day at-home body transformation workout NUK SOO™. There are 3 levels of difficulty – we recommend you do the 'professional' level the first time you try it! The moves are inspired by MMA conditioning and martial arts and will help you lose fat, tone up, become more athletic and help turn you into a warrior.
"We will be known forever by the tracks we leave"
Dakota
In Native American, Cheveyo means Spirit Warrior.
"To be a spiritual warrior means to develop a special kind of courage, one that is innately intelligent, gentle and fearless. Spiritual warriors can still be frightened, but even so, they are courageous enough to taste suffering, to relate clearly to their fundamental fear and to draw out without evasion the lessons from difficulties."
Sogyal Rinpoche
Regardless of the difficulty level, you are doing, today's warrior circuit has some challenging exercises with a lot of reps! Remember, every set, and rep prescription is on purpose to maximise mental and physical results. To improve one's body and develop a warrior mindset; we all have to have the courage to do things that are tough. Glory is always on the other side of hard work!
| | Professional | Expert | Master |
| --- | --- | --- | --- |
| Frog Jumps | 3 sets of 10 | 2 sets of 20 | 1 set of of 50 |
| Bakasana | 5 sets of a 5 second hold | 3 sets of a 30 second hold | 1 set of a 2 minute hold |
| Rolling stretch | 2 sets of 10 reps | 1 set of 30 reps | 1 set of 50 reps |
| Capoeira Kicks | 2 sets of 60 reps | 3 sets of 90 reps | 1 set of 200 reps |
| Knee to Elbow Press | 2 sets of 60 seconds | 2 sets of 90 seconds | 1 set of 100 reps |
| 180º Jump Squats | 3 sets of 14 reps | 3 sets of 28 reps | 2 sets of 50 reps |
| Boxing Combo One | 3 sets of 25 reps | 5 sets of 50 reps | 5 sets of 50 reps |
| Jabs to Spinning Elbow | 2 sets of 15 reps | 2 sets of 30 reps | 2 set of 50 reps |
| One Handed Burpee | 3 sets of 8 reps | 2 sets of 25 reps | 2 sets of 50 reps |
When doing todays warm up I want you to focus internally and connect your mind to the physical movements. Follow the moves with Jen, scan for tight spots and focus your mind on those areas. Let the stresses of your day dissolve and become 100% present within your body. Body-awareness is a fundamental benefit of NUK SOO™ so embrace this feeling and focus as you prepare for the circuit.
Follow along and enjoy this time to stretch and loosen up any tight muscles. The moves in NUK SOO™ are done mindfully with control, so chances of injury are small, however tightness can creep up on you and tightness can cause an over compensatory effect from other muscles. This often increases over time, so if anything feels particularly tight, feel free to just stop the video and hold that stretch for 30-90 seconds longer.
We hope you enjoyed this workout routine, which is just one day from our exciting NUK SOO mind & body transformation program.
LEARN MORE ABOUT NUK SOO™